Snow 2018: how does it compare with previous years?
Comments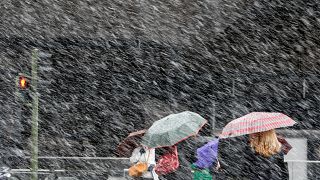 Cities across Europe have been feeling the full force of winter this week. But while commuters struggle, holidaymakers have been enjoying perfect ski conditions in resorts from Sweden to Spain.
But has 2018 seen more snow than previous years? There is no official snowfall report. So we looked into the data of six ski resorts around Europe to find out if this year's weather has been significantly different.
We examined some of the highest ski resorts in the continent and compared the data from the last four years. Our revision was based on Val Thorens, France, with its highest ski lift at 3,320; Lech-Zuers, Austria, highest ski lift at 2,448m; Zermatt, Switzerland, highest ski lift at 3,899m; Sierra Nevada, Spain, highest ski lift at 3,300m; Monte Bianco, Italy, highest ski lift at 3,466 and Åre, Sweden, with its highest ski lift at 1,274m.
Most results show a considerable growth in snow slope depth, some ski resorts have seen twice as much snow as last year.
The snow data was supplied by the Ski Club of Great Britain via Iglu Ski, UK's largest ski travel agency (independent and disconnected from any ski operator.)