Maldives declares state of emergency as troops storm Supreme Court
Comments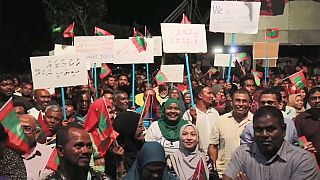 Maldives President Abdulla Yameen has declared a state of emergency for 15 days amid a political crisis.
Security forces are reported to have entered the Supreme Court following his refusal to carry out its ruling that jailed opposition leaders should be freed.
Last week the court revoked terrorism charges against nine leading opposition figures including the country's first democratically elected president, Mohamed Nasheed, who is now in exile.
Police have detained ex-president Maumoon Abdul Gayoom, who is Yameen's half brother, at his residence along with his son. Gayoom ruled the country for 30 years until 2008 and is now in opposition.
Maldives police also arrested Chief Justice Abdulla Saeed and another Supreme Court judge on Tuesday, dramatically escalating the legal battle with the archipelago's top court.
Yameen's actions, which have sparked street protests, have been described by his critics as a "purge". The US has accused him of either jailing or exiling major opposition political figures to hold on to power.
The Maldives has experienced political unrest since Nasheed, the island's first democratically elected leader, was forced to quit amid a police mutiny in 2012.
China, the United States and India issued travel advisories for the Maldives, a country of 400,000 people best known as a beach paradise for the tourists that provide most of its foreign currency revenue.