Body of Russian pilot shot down over Syria returned to his home country
Comments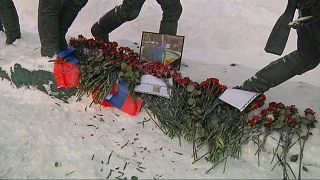 The body of Russian pilot whose plane was shot down over rebel-held Syria on Saturday has been returned to his home country.
Roman Filipov's remains were recovered with the help of the Turkish authorities according to the Russian Ministry of Defence.
On Monday, the Russian government said the pilot had managed to eject from his aircraft after it was hit by a surface-to-air missile over the northwest province of Idlib.
The statement said that Filipov bailed out in the vicinity of Tell Debes, a settlement held by Syrian militants fighting the government of Bashar al-Assad. It went on to claim that the pilot then blew himself up with a hand grenade as the fighters closed in on his position.