Russian pilot 'killed by terrorists' on the ground after jet is downed
Comments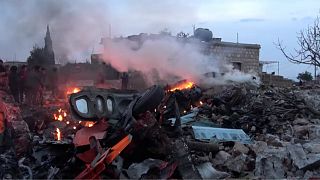 A pilot has been killed in a ground fight after a Russian Sukhoi-25 fighter jet was downed over Idlib province in northern Syria, the biggest remaining rebel-held enclave.
The Russian Ministry of Defence confirmed the downing of the plane, adding that the pilot "died in a fight with terrorists" and efforts to recover his body had started.
Russian officials believe the jet was brought down with a portable anti-aircraft missile system, and the pilot landed in an area controlled by the al-Qaeda-linked Hayat Tahrir al-Sham alliance.
The Britain-based Syrian Observatory for Human Rights said the pilot ejected from the military aircraft after it was shot down on Saturday afternoon near the town of Sarqeb. The Syrian Arab Army (SAA) had been advancing towards the city in recent days under the cover of Russian and Syrian airstrikes.
"The Russian pilot came down in a parachute, before being captured," said Rami Abdel Rahman, who runs the monitoring group.
Videos posted on social media appeared to show the plane being hit and bellowing flames rising from the wreckage on the ground. One clip shows a man climbing on the burning debris and stamping on a red star insignia on a wing.
Syrian rebels have claimed responsibility for the attack, according to Reuters.
Within hours of the incident, reports say cruise missiles were fired from Russian navy vessels in the Mediterranean towards the area where the plane was downed.
Backed by military support from Iran and Russia, forces loyal to Syrian president Bashar Al Assad have retaken scores of towns and villages from rebels over the past few months.
In late December, the SAA launched a major offensive around Idlib, which was lost to insurgents when the provincial capital fell in 2015. 
The UN says some 100,000 civilians have been displaced by the fighting in the rebel stronghold since November.