Italian 'Nazi' shows no remorse for shooting at migrants
Comments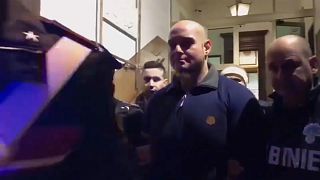 Images have emerged of Saturday's drive-by shooting spree in central Italy in which the assailant targeted immigrants.
They show a car draw up in front of H7 bar on the outskirts of Macerata
Shots were fired in two key areas in the town where an investigation is being carried out into the murder of an 18-year-old girl whose body was found dismembered and hidden in two suitcases last week.
A 29-year-old Nigerian male migrant has been detained over the killing of Pamela Mastropietro.
Calls for revenge attacks were posted on the Facebook page of the victim's mother in the run up to Saturday's shootings.
Local reports are linking the two incidents.
Six people were wounded in the drive-by incident, at least one of them is in a serious condition.
The suspect named as Luca Traini who has a neo-Nazi symbol tattooed above his eyebrow has been arrested. The 28-year-old who was described by a local magistrate as "lucid and determined" is said to have exhibited "no remorse for his actions".
Police investigating him on multiple counts of attempted murder with the aggravating circumstance of "racial hatred found a copy of 'Mein Kampf' by Adolf Hitler in his room where he lives.
Leftist politicians are blaming the far-right League party for stirring up racist ferver. Traini stood as a candidate for the party in a local ballot last year.