Olympics step up anti-doping measures
Comments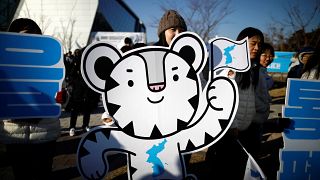 Final preparations are underway in Pyeongchang, South Korea, where 2018 Winter Olympic Games are set to open on Friday.
Already hard at work, the World Anti-Doping Agency, WADA.
The International Olympic Committee (IOC) says the upcoming games will offer the most comprehensive and independent anti-doping measures in Olympic history.
The overhaul comes after evidence of systematic, state-sponsored doping emerged from the 2014 Winter Olympics in Sochi, Russia.
The IOC has invited an external body to arbitrate doping-related decisions and has increased testing.
"Well at the Games we do a lot of out-of-competition testing because there is a lot of evidence that that is very effective," says Richard Budgett, the IOC's Medical and Scientific Director. "Every athlete who does well at a Games knows they are going to be tested at the end of competition, but we will be doing over 1,000 tests in competition and over 1,400 tests out-of-competition. And with the blood samples as well there`'s over 2,500 tests altogether".
Ahead of the games, the PyeongChang Cultural Olympiad kicked off on Saturday. The festival includes hundreds of performances and exhibitions to give visitors a taste of authentic Korean culture.