Putin praises CAS decision to lift doping bans on 28 Russian athletes
Comments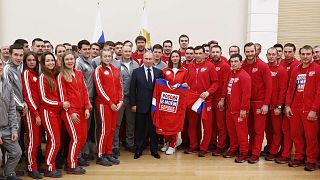 -
Copyright

REUTERS/Grigory Dukor
The Russian President Vladimir Putin has praised a court's ruling to overturn a doping ban on 28 Russian athletes.
The ruling by the Court of Arbitration in Sport (CAS) reinstates their results from the 2014 Sochi game.
But Putin said the fight against doping must go on, alongside WADA, the World Anti-Doping Agency.
"This decision proves our position, which is that a vast majority of our athletes are clean and did not commit doping - but we also need to respect the side which we were arguing with."
The International Olympic Committee insists the cleared athletes are not automatically free to compete next week at the Pyeongchang Olympics in South Korea.
It says the ruling is evidence of "systemic manipulation" of the anti-doping system. A description that's infuriated the Russian Federation Council's speaker Valentina Matvienko.
"I read 'The IOC regrets the decision taken by the Court of Arbitration for Sports'. It's so obvious by now that it's impossible to hide. What "regret"? Are they doubting the decision by the Court of Arbitration for Sports, which was created exactly for this purpose?." said Matvienko.
However Russia's Sports minister Pavel Kolobkov says the IOC will be asked to allow the 28 athletes to compete as neutrals in Pyeongchang.
Eleven other athletes were confirmed to have committed doping offences although CAS said it had reduced their lifetime Olympic bans to a suspension from this year's Games.