Russian radio fight over Stalin's legacy
Comments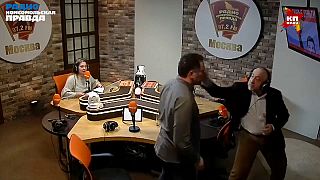 In Russia, the debate over Josef Stalin's legacy has spilled over into violence during a live on-air radio show.
The heated dispute, which resulted in a brawl between two prominent journalists, apparently centred on the former leader's role during World War II.
The journalists are said to have disagreed over whether victory against Germany was down to the dictator or the Soviet people.
The spat comes just days after authorities in the country banned the controversial British satire Death of Stalin.