New production of Twelfth Night to open in Shakespeare's birthplace
Comments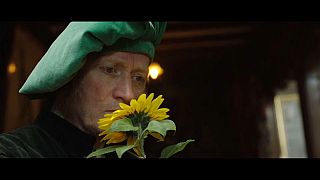 "Everyone gets scared of Shakespeare," says Adrian "Ade" Edmondson – one of the stars of the Royal Shakespeare Company's (RSC) production of "Twelfth Night," currently playing in the playwright's birthplace, Stratford-upon-Avon, in Warwickshire, U.K.
"They think they've got to find something that isn't there… To answer some kind of school question set by an English teacher about themes and motives."
But the actor says this attitude is much ado about nothing.
"Actually, Shakespeare is just an entertainer," he says. "He just wrote humans very, very well."
In "Twelfth Night," Edmonson stars as Malvolio – the puritanical, pompous and later pitiable steward serving wealthy countess Olivia, played by Kara Tointon.
She agrees that Shakespeare's work has a certain fear factor attached to it.
"People get really scared of Shakespeare," Tointon says. "I thought we'd get to work and someone would say, 'No, no, no, this equals this and you should know that.'" But in fact, "it was all up for discussion and we sat around a table and it was like doing a history slash drama class again."
It's up to directors and performers, she suggests, to do the Bard justice.
"I've been to see plays where I wanted to chop my arm off just for a bit of fun," Tointon smiles. "And he would be shuddering in his grave because he wrote for all classes, all ages. They would be rolling up with laughter, crying in the masses and that's why he was so great."
"Twelfth Night" is one of Shakespeare's most popular romantic comedies – owing to its gender-bending antics, raucous humor, twisted love triangles, and ambiguous ending.
This production's director, Christopher Luscombe, sets the action in Victorian England – but gave the cast the freedom to interpret the characters for themselves.
For Edmondson playing Malvolio is about balancing humor and pathos.
As the co-creator and co-star, along with the late Rik Mayall, of anarchic '90s British comedy "Bottom," Edmondson's comedic credentials are well established.
This certainly comes in handy given Malvolio, the butt of a cruel joke set up by members of Oliva's household, is often played for laughs.
But Edmondson also sees the darker side of the servant's humiliation, and treats him as "a very human character."
"He starts off very kind of puritanical and not particularly evil but disliked. He's very efficient at his job, which most people don't like efficiency do they, because it makes people seem officious. So they play an enormous practical joke on him and they take it too far and it's too cruel. It has a lot of kind of tie ins with modern bullying, I think."
"Twelfth Night" has been playing at the Royal Shakespeare Theatre since early November. But on Valentine's Day on February 14th the play will be beamed live to cinemas around the globe.
"Twelfth Night" from the Royal Shakespeare Company will be broadcast live to cinemas around the U.K. and Europe on February 14, followed by various international dates. To find your local screening, visit onscreen.rsc.org.uk.