Academia woes: Italian professors earn as little as €3.75 per hour
Comments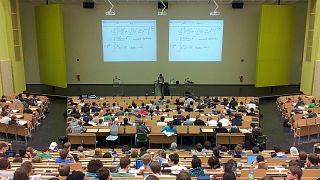 Italian universities employ underpaid professors for courses that are quintessential to the academic curriculum, paying them wages that could be as low as €3.75 per hour, according to a union survey.
Research conducted by a network of temporary workers and trade unions in Bologna reveals details of the conditions some of 26,000 professori a contratto (temporary professors) have to accept if they are willing to take the job.
Many of these highly skilled, well-educated professionals are forced to take on side gigs, including food delivery to make ends meet. The survey shows teaching at university earns between €4.28 and €17.14 per hour for a 60-hour course, or between €3.75 and €15 per hour for a one-semester module. The rate is before tax.
According to the figures released by the Ministry of Education, Universities and Research — which has not answered Euronews' request to comment — more than 60% of the staff on "zero-hours contracts" (as they are known in the UK) is made by male professors. This reflects the widespread gender gap at Italian universities where female academic staff, including researchers, make up 35% of the total workforce, whereas at lower levels (primary, secondary education and high-school) women account for 83% of the teaching labor force.
Researchers in Bologna also found that 85% of temporary professors in Italy teach classes assessed as compulsory for students' curriculum, busting the myth that these external lecturers are hired only for minor disciplines or lab work.
Working for free most of their time
The main issue raised by Flc Cgil trade union is that these professors are paid only for the effective teaching hours spent in class. Exams, student reception, correcting dissertations, administrative assignments, hours spent preparing each lessons and travel expenses are not paid for — except by some "virtuous" universities.
The teaching time accounts for less than 50% of the whole commitment, claims one contract professor interviewed by Euronews, while Flc-Cgil and the network of temporary workers behind the study estimates that these short-term contractors end up working "for free" 78% of their total time.
Their contract can be extended for a maximum tenure of six years. The professori a contratto cannot benefit from maternity or paternity leave, sick leave or holidays.
"Half of the respondents to our questionnaire continue to work even when their contract has expired, in order to guarantee examination sessions and educational continuity for their students," says Barbare Grüning, a professoressa a contratto and coordinator of the Network for temporary teachers and researchers of the University of Bologna.
Earlier this month, Lorenzo Pregliasco, a well-known political analyst and lecturer of political communication in various universities in Italy and the UK, publicly refused the €11 per-hour payment at a laboratory at the University of Turin, suggesting that academia should have given the money to charity instead. "This is less than what a student would ask to give repetitions at high school," he wrote on Facebook. "This is a systemic problem: Italian universities cannot offer these economic conditions if they want to involve more external professionals."
A 2011 decree sets the salary for the professori a contratto between €25 and €100 before tax, but each university applies different tariffs within this range depending on the resources available.
Young and older professionals continue to teach "in the hope of permanently accessing the Academic ranks. Previous teaching experience gives extra points when applying for a full-time role within universities via open competitions," reports Pasquale Cuomo of the Coordination of temporary workers of the Clc Cgil.
One temporary lecturer, contacted by email by Euronews, writes that she would have had so many things to say but she cannot give an interview fearing for the repercussions it may have on her career.
Giuliana Scotto teaches three disciplines (law, aesthetics and German) in different universities throughout the country. In order to have a decent salary, she took on 10 contracts in during the last academic year: One in Bologna, three in Venice, four in Rome, two in Pisa.
"It's very tiring, as you can imagine," said Scotto in a phone interview. "At the beginning, I kept my freelance translator job on the side to earn a proper, but still minimum, salary."
All journeys are at her own expense. "The number of exam sessions each university has must also be taken into account: I might have to go to Bologna three or four times, but Roma III University has at least eight or nine sessions per discipline, whereas in Pisa they are nine."
We asked Gaetano Manfredi, rector of Federico II of Naples and President of the Conference of Italian Rectors — one of the institutional interlocutors — what he thought about the issue. "The problem is not only the hourly salary, but how much teachers are paid in Italy, where - especially at the beginning of the career — wages are amongst the lowest in Europe," he said.
"We are discussing with the government and we will lobby future governments for greater funding of the whole university system. Everyone will profit from having more resources."
Elsewhere in Europe
France has the same issue with the so-called Chargé d'enseignement vacataires, who can deliver 64 hours of courses, 96 hours as a tutor or 144 exercises. The remuneration in the first case is €61.05 per hour, in the second case €40.70 and in the third case €7.13.
After six months of activity, vacataires are entitled to benefits such as maternity or paternity leave and social security. But it is only a "showcase", according to one temporary vacataire in Le Monde: the net hourly rate is €9 considering all the costs that teaching entails.
"I only earn €1,000 a month by doing the job of two people," one said. "Four times less than a tenured professor."
The Spanish equivalent of the professori a contratto are associated professors. All of them are temporary contract teachers who, according to the law, have a recognised experience and a salary in the private sector, but who are offered courses to pass their knowledge of outside world and the labour market on to students. In practice, writes El Pais, they are low-cost teachers at just €300 per month after tax. Sometimes the salary could be €500. In Valencia, the offer "you can't refuse" is €5 per hour: three out of four teachers end up accepting it. A general strike was scheduled for 29 January.
In the United Kingdom, one of the most highly skilled and prestigious professions in Britain, university teaching is now dominated by zero-hour contracts, temp agencies and other forms of temporary work, the Guardian writes. A 44-year-old politics lecturer working at three different institutions at once could only earn just over £6,000 (€6,848) a year, relying on benefits to top up his poverty pay.