Three killed when helicopter slams into SoCal home
Comments
By Alex Johnson with NBC News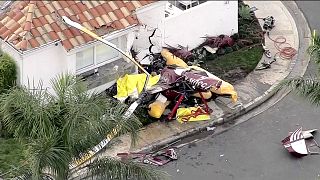 -
LOS ANGELES — Three people were killed and two others were injured when a helicopter crashed onto a house in Southern California on Tuesday, police said.
Four people were aboard the helicopter when it slammed into the home in Newport Beach, in Orange County about 40 miles south of Los Angeles, just before 2 p.m. (5 p.m. ET), said Jennifer Manzella, a Newport Beach police spokeswoman.
A bystander on the ground was also involved, Manzella said, adding that it wasn't immediately clear whether the bystander was among the dead. The two surviving victims were rushed to a trauma center, she said.
Witnesses told NBC Los Angeles that they heard the helicopter before they saw it.
"You would have thought it was a train," said Paddy Faubion, a witness.
Gail Kirk, a neighbor, said she "saw something fly off, like a propeller, and then it went down."
"It's like a war zone," Kirk said. "It's so scary."