Coastguard: Still no sign of Quiksilver CEO missing at sea
Comments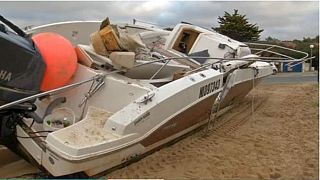 The French coastguard has still found no sign of surfwear boss Pierre Agnes, whose sailboat washed up on the country's Atlantic coast on Tuesday.
A sea search for him was suspended on Wednesday. Local authorities previously said high waves were hampering visibility.
Agnes, 54, set sail in his boat early Tuesday morning from Hossegor, France, for a fishing trip. He later radioed to port authorities that his return would be delayed because of thick fog. 
The 11-metre sailboat was found empty and washed onto the shore 30 kilometres north of the southern coastal town of Biarritz less than two hours later, prompting an alert that began search and rescue efforts.
Search operations were suspended at around 9pm Tuesday night and resumed Wednesday morning, with patrols scouring the French coast by air and sea for the CEO and father of three to no avail.
Boardriders confirmed on Wednesday Agnes was lost at sea, saying in a statement: "Early this morning our CEO, Pierre Agnes, did what he did many mornings and went fishing on his beloved boat to start his day. Later in the morning his boat was recovered on the beach near his hometown and Pierre has not been heard from since."
"The Boardriders family and entire surfing world are devastated by this news. Given the situation on the ground is still evolving, our statements today will be limited. We are concentrating on working with the local authorities on the search and rescue effort and supporting Pierre's family. Please keep Pierre and his family in your prayers. Thank you."
'Profound effect' on surf world
Boardriders is the parent company of popular surf brand Quiksilver, Roxy and DC Shoes — and Agnes is a popular figure in the surfing community, having first earned his stripes as a former surf champion and member of the French team.  
Surfing legend Kelly Slater took to Instagram to talk about Agnes' "profound effect" on him and the sport.