Orca learns to say 'hello' and 'bye bye'
Comments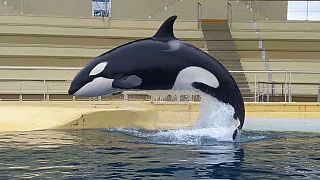 An orca living in captivity in France has proved that the species is capable of imitating human speech, according to new research, which records the killer whale repeating words such as "hello" and "bye bye".
Wikie, a 14-year-old orca housed at Marineland Aquarium in Antibes, is the first of her species ever recorded by scientists saying human words.
The killer whale was taught to imitate human speech through her blowhole with her head above the water.
She can be heard in recordings mimicking words such as "hello", "one, two, three", and "bye, bye." 
According to the research, produced by scientists from institutions in Germany, the UK, Spain and Chile, Wikie was able to make "recognisable copies of all familiar and novel" human sounds tested.
She did three on the first attempt, and most during the first 10 trials.
Researchers say the discovery helps to explain how different pods of killer whales have ended up with unique vocal dialects.
Wikie's speech suggests that "vocal variants observed in natural populations of this species can be socially learned by imitation," the study notes.
Elephants, dolphins, seals and certain species of birds are among other animals found to have the ability to mimic human words.