Democrats deliver response to Trump's State of the Union address.
Comments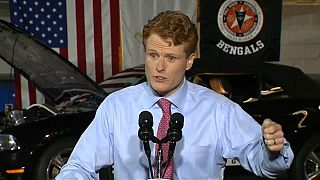 Democratic lawmakers wore black as President Donald Trump deliverered his first State of the Union address.
Rather than skipping the speech, they made a protest in their own way, paying homage to the women of Hollywood, who sported black gowns to the Golden Globes in support fo the 'Me Too' and 'Time's Up' movements.
In contrast, Melania Trump made a statement by wearing an all white suit. The First Lady had already broken with tradition by traveling in a separate car from her husband.
Without uttering the president's name, Representative Joseph P. Kennedy III chastised the Trump administration for what he said was its abandonment of the fundamental values for which the nation stands.
A politician with a very well-known name but relatively little prominence outside of his home state of Massachusetts, delivered the sanctioned Democratic response to Trump's State of the Union address.
The 37-year-old grandson of Robert F. Kennedy and grand-nephew of the slain U.S. President John F. Kennedy and the late Senator Edward Kennedy, accused the Trump administration of dividing the country and "turning American life into a zero-sum game... where for one to win another must lose".
Speaking to an audience at a schoolroom in Fall River, Massachusetts, Kennedy finished his speech by asking the American people to "have faith" and assured them that the the state of the country is "hopeful, resilient and enduring".
The major party in opposition traditionally broadcasts a rebuttal speech following the U.S. president's annual state of the union address, which is delivered to a joint session of Congress and sums up achievements and goals.