Austria's Social Democrats under fire over "Nazi" fraternity songbook
Comments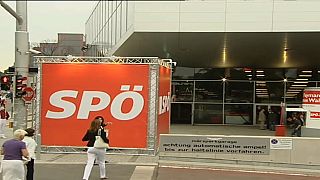 Austria's Social Democrats have expelled a senior member who's accused of illustrating a Nazi songbook in the 1990s.
Authorities say he is one of four party members currently under investigation. Their identities have not been revealed.
It comes days after it emerged that a far-right candidate in this Sunday's (February 4) state elections was also implicated in using the fraternity songbook.
Freedom Party member Udo Landbauer is the deputy co-chair of a fraternity that allegedly used the material.
According to the Austrian weekly magazine Falter, "Germania zu Wiener Neustadt" contains several songs that celebrate Nazi atrocities and use anti-Semitic, racist language.
A line in one song says "In their midst comes the Jew Ben-Gurion: 'Step on the gas, you ancient Germanic peoples, we'll manage the seventh million."
A spokesman for Landbauer has confirmed that he was a member of the fraternity over the past 18 years but that he only used the songbook "with torn-out pages and blacked out passages."