'Army of Women' returning for Larry Nassar's second sentencing
Comments
By Tracy Connor with NBC News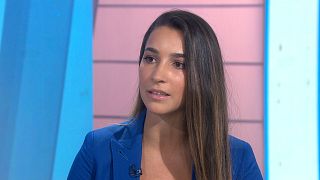 -
More than a year after gymnastics doctor Larry Nassar was unmasked as a sexual predator, it took the voices of 156 women to bring about dramatic change.
The president and athletic director of Michigan State University resigned and prosecutors launched a probe into the school. USA Gymnastics promised to boot its entire board of trustees and cooperate with an independent investigation. Congress passed, almost unanimously, legislation to protect the safety of amateur athletes.
Now, a week after Nassar's accusers finished telling their stories at an emotional seven-day sentencing hearing that transfixed the nation, some of them are set to do it again, for his sentencing in a neighboring county.
The outcome won't hold anyone in suspense: no matter how many years he gets, Nassar will spend the rest of his life in jail.
"I just signed your death warrant," Ingham County Judge Rosemarie Aquilina famously said as she hit Nassar with a sentence of 40 to 175 yearsfor molesting seven girls at his home or Michigan State University office under the guise of medical treatment.
Nassar, who is already serving 60 years for child pornography, faces another 40 to 125 years in Eaton County for molesting three girls at Twistars, the local gymnastics club.
Officials said 57 girls and women have signed up to speak at the second hearing, which could last up to four days. Under his plea agreements in both Ingham and Eaton counties, any accuser can give a victim impact statement.
Nassar, 54, has to sit there and listen to all of them under the terms of the plea agreement he signed. Midway through the first hearing, he complained in a letter to the judge that it was bad for his mental health.
At the last hearing, many of the women spoke directly to Nassar, some pointing or even cursing at him. At the end, he apologized, but the judge said she didn't believe he was remorseful — citing his letter, which said in part, "Hell hath no fury like a woman scorned."
Olympic gold medalists Aly Raisman and Jordyn Wieber confronted Nassar, the longtime USA Gymnastics team doctor, at the first hearing. None of the elite gymnasts have announced that they plan to speak at the second one.
However, Rachael Denhollander, a former club-level gymnast who was the first to publicly accuse Nassar of sexual assault, said she plans to be there.
The proceeding is sure to keep up on the pressure on the institutions that employed Nassar, which have been criticized for not doing more to stop him. Although the president of USA Gymnastics resigned under pressure last year, a bigger shakeup was triggered by the first hearing.
Just this week, Gov. Greg Abbott ordered the Texas Rangers to take over a probe into the Karolyi Ranch, where some of the gymnasts say they were abused by Nassar during USA Gymnastics training camps.
Michigan State has insisted no officials believed Nassar was a predator until an Indianapolis Star investigation in September 2016, although victims say they told school staffers as far back as 1997. USA Gymnastics says it alerted the FBI about Nassar soon after an athlete complaint in 2015, though it didn't tell Michigan State he was suspected of abusing patients.
In Washington, the House this week passed a bill, already approved by the Senate, that would require sports organizations like USA Gymnastics to immediately report any suspected cases of sexual abuse. The vote was 406-3.
One of the dissenters, Rep. Justin Amash, R-Mich., said in a Facebook post that his opposition stemmed partly from his belief that the bill "creates a thought crime."
"No one should face the risk of prison time for failing to report unsubstantiated rumors about a potentially innocent person," he wrote.
"Under this bill, if someone just suspects abuse — does not witness, confirm, actively conceal, or assist in the abuse in any way — and takes no other action for 24 hours, that person is a criminal. Free societies do not criminalize this kind of inaction, and crimes like this — which can turn lots of ordinary, unknowing people into criminals — take law enforcement resources away from crimes committed by malicious actors that cause direct harm."
Another opponent, Rep. Thomas Massie, R-Ky., said the bill creates a federal "clearinghouse" for sexual abuse claims with liability immunity "that could deprive those who are wrongfully accused of any legal remedy."
"In addition, the bill creates a new federal crime, yet conservative Supreme Court Justices such as Antonin Scalia have repeatedly warned Congress against the over-federalization of criminal law," added.
At a press conference on Capitol Hill Tuesday, former top gymnast Jeanette Antolin thanked Dianne Feinstein, D-Calif., and other lawmakers for getting the bill to President Donald Trump's desk.
"You have made us believe our voices can be heard and will create real bipartisan change," she said.