Trump prepares for his first official State of the Union address
Comments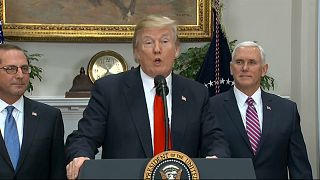 **President Trump is putting the finishing touches to his State of the Union address which he says will be "big" and "important". But what is he likely to actually say?  NBC's Ali Vitali has been giving her insight to Euronews: **
It's a big day with big stakes for President Donald Trump in Washington as he's getting ready to give his first official State of the Union Address.
The White House has been keeping details of what exactly the President might say secret but we've obtained some key themes from senior administration officials.
First of all look for the president to give a fundamentally optimistic speech about the state of the United States. He's going to present a safe, strong and proud American vision. That gives not just America's place in the world but America's place in the world as Donald Trump would like it to be!
Secondly, look for him to talk about bipartisanship. That's not a word you hear too often acted upon from Donald Trump, who's been known to lash out at Democrats and his opponents on Twitter. But he's going to need them if he wants to pass key legislation on immigration and on infrastructure.
Finally, you can't do bipartisanship without Democrats, of course. And the guests that they're inviting to the State of the Union actually give a good guess as to how that might go. And it might not go well! Especially when they're inviting people like San Juan mayor Carmen Cruz, who is very critical of Trump's response to Puerto Rico. There'll also be sexual misconduct survivors and sexual assault survivors - an issue that the president has not necessarily been outspoken on despite the big "me-too" movement coming in the United States. Overall we're going to look for Trump to stay on-script and give a very broad message for what he sees as the State of the Union.
Ali Vitali
@alivitali