After 22 years, Romania's navy is aiming beneath the waves again
Comments
By Cristian Gherasim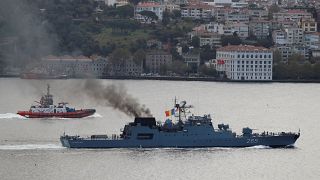 -
For the first time in decades, the Black Sea will once again be patrolled by a Romanian navy submarine.
This very ambitious programme will reinstate Romania as a key player at the Black Sea

Romanian defence minister
The announcement was one of the first acts of Mihai Fifor, the incoming Minister of Defence and was the most noteworthy of a series of measures designed at modernising the country's military.
"There is a great need to modernise the Romanian Naval Forces. This very ambitious programme will reinstate Romania as a key player at the Black Sea", said the Minister during the Parliamentary hearing. He added that "developing full submarine fighting capabilities is a medium-term plan and that the submarine will be produced in a shipyard in Romania."
Romania has been without a functioning submarine for over 22 years since its only previous military submersible, the Delfinul was retired.
The country's objectives have changed more than a little since then. Secretly acquired from the Soviet Union in 1985, the Kilo-class Delfinul completed scores of missions hunting Nato vessels in the final days of the cold war.
Able to remain underwater for a month and a half, the craft's stealth led it to become known as the "Black Hole".
Despite numerous plans for an overhaul, the submarine remained inoperational as Romania switched sides and joined Nato in 2004.
Military analyst Ion Petrescu told Euronews: "The new Romanian submarine will be similar to that used by other Nato member states, such as Germany and The Netherlands in order to better coordinate joint operations. It could be even a replica of the German 214 Type submarine, capable of submerging for close to 3 months."
A 214 Type can cost up to €500 million. They "Are primarily used as stealthy reconnaissance weapons, doubling also as boat and ship hunters." noted Petrescu
Due to "Russia's extremely aggressive presence in the region, Romania needs to beef up its naval capabilities. The Nato Alliance is fully aware of the importance the Black Sea represents for all of its members," Defence Minister Fifor said as he announced the decision. 
He closed the parliamentary hearing by saying that last year Romania spent close to 2% of GDP on defence, in line with NATO requirements, one of only five NATO countries to have done so.