Separatist in Yemen take over government buildings
Comments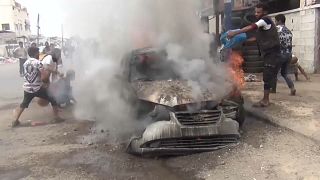 Government buildings in southern Yemen have been seized by separatist groups who Prime Minister Ahmed bin Dagher accuses of mounting a coup.
There has been fierce fighting between the separatists and forces loyal to President Abdrabbuh Mansour Hadi who is currently based in Aden. Houthi rebels are in control of the capital Sanaa.
At least ten people are believed to have died and many more have been injured.
A deadline, which was imposed by the separatists asking the government to resign, passed on Sunday.
The government has now asked neighbouring countries to help, including the Saudi-led coalition. The prime minister stressed that the UAE is the "decision maker" in Aden.