Rep. Kennedy invites trans soldier to State of the Union address
Comments
By John Paul Brammer with NBC News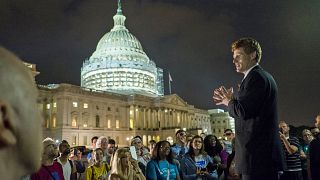 Copyright

Pete Marovich Getty Images

-
Rep. Joe Kennedy III, D-Mass., has invited a transgender Army staff sergeant, Patricia King, to be his guest at the State of the Union address on Tuesday night, his office confirmed Monday.
"Staff Sergeant Patricia King represents the best and bravest our nation has to offer," Kennedy said in a statement. "For nearly two decades, she has valiantly served our country and defended not only our safety, but our values at home and abroad."
He added, "Although I won't be able to join her Tuesday night, I know that she will make our Commonwealth and our country proud at the State of the Union."
Kennedy, who serves as chairman of the Congressional Transgender Equality Task Force, will be delivering the Democratic response following the president's speech, so he will not be in the chamber during the address. However, he said he hopes King's presence in the chamber will send a message to Trump, who has pushed for a ban on transgender people serving in the military.
"I want her to be there as a real person, and the face of an inhumane policy," Kennedy told The Boston Globe.
King, a Massachusetts native, entered the Army in 1999 when she was 18, and said she was honored to receive Kennedy's invitation.
"The State of the Union is part of our political process, an accountability system to make sure our government is being transparent," she said. "I'm honored and glad to bear witness to it."
President Donald Trump proposed a transgender military ban via his Twitter account in July. Since then, a number of federal judges have blocked his administration's attempt to bar trans people from serving, which forced the Justice Department to put the ban on hold. As of Jan. 1, trans recruits have been able to start the enlistment process, and existing trans service members — like King — have been protected from being discharged.
However, the Justice Department hasn't given any indication that it will altogether give up its court fight. If it continues to pursue the transgender military ban and is successful in court, the ban would go back into effect.
King said she hopes her attendance at the State of the Union address will "bring hope for the transgender community."
"I want them to see that in spite of everything they may be going through, we are still here and moving forward," she said. "Equality is something we should never give up on."