'Maze Runner: The Death Cure' sprints past 'Jumanji'
Comments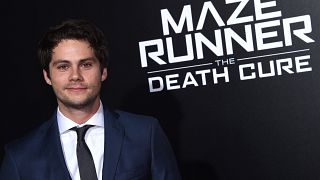 -
Copyright

Chris Delmas AFP - Getty Images
LOS ANGELES — Fox's "Maze Runner: The Death Cure" has ended the three-week reign of Sony's "Jumanji: Welcome the Jungle" with a respectable $23.5 million at 3,787 North American locations for the weekend.
"The Death Cure," starring Dylan O'Brien in the finale of the dystopian trilogy, performed at the top end of forecasts with the best performances in the West and South Central regions. The opening had been delayed for a year after O'Brien was injured on the set.
The original "Maze Runner" launched with $32.5 million in 2014, and "Maze Runner: The Scorch Trials" launched with $30.6 million in 2015. "The Death Cure," which features O'Brien's character and his cohorts rescuing their friends from government headquarters, generated a B Cinemascore and drew a 51 percent female audience; 57 percent of the total audience was under 25.
"Jumanji" finished with $16.4 million at 3,553 sites in its sixth weekend, declining by only 16 percent and giving it $338 million domestically since Dec. 20 — $3 million behind "Zootopia" for the 46th spot on the all-time list. That's far above anyone's original forecast and makes it the third-highest performer for Sony of all time.
The action comedy, starring Dwayne Johnson and Kevin Hart, also grossed $17.7 million internationally over the weekend, for an overseas total of $484 million and a worldwide box office of $821.7 million.
Overall domestic business was solid rather than spectacular, with $139 million, down by 2.5 percent from the same weekend last year, according to comScore. Thanks largely to "Jumanji," year-to-date business as of Sunday is up by 1.7 percent, to $918.9 million.
Christian Bale's "Hostiles" led the rest of the pack, with $10.2 million at 2,815 venues, as Entertainment Studios expanded the historical drama from 119 locations. Fox's sixth weekend of "The Greatest Showman" came in fourth, with $8.9 million at 2,663 screens, declining by only 11 percent in a remarkable show of staying power. The Hugh Jackman musical has taken in $126.5 million.
Steven Spielberg's "The Post" followed in fifth, with $8.9 million at 2,640 locations, in the wake of Oscar nominations for best picture and Meryl Streep as best actress. The Fox release declined by only 24 percent and has topped $58 million so far.