Poland marks Holocaust Remembrance Day
Comments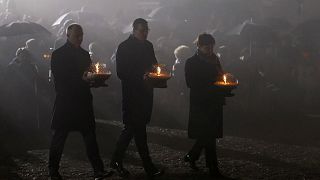 -
Copyright

REUTERS/Kacper Pempel
In Poland, special ceremonies have been held to commemorate International Holocaust Remembrance Day.
Saturday marked exactly 73 years after the Soviet army liberated Auschwitz-Birkenau in occupied Poland.
About 1.5 million people, most of them Jews, were killed at the Nazi death camp which has became a symbol of the horrors of the Holocaust and World War Two, which ravaged Europe
The ceremony comes days after Israel called on Warsaw to amend a bill regarding its role in the Holocaust.
Polish lawmakers approved a measure that would make it illegal to use statements suggesting Poland bore any responsibility for crimes against humanity committed by Nazi Germany on its soil.
Poland says the bill doesn't aim to limit freedom to research or discuss the Holocaust, or to restrictfreedom of artistic activity related to the issue.