Landslide victory for Finnish President
Comments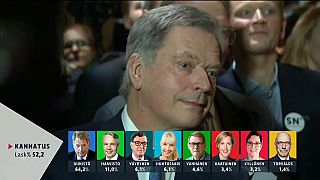 Finland's President Sauli Niinisto cruised to a rare first round election win on Sunday after a campaign in which his delicate balancing of ties with neighbour Russia and the U.S.-led NATO military allianceresonated with voters.
With all votes counted, Niinisto won more than 60 percent of the vote, the election commission said, his closest rival Pekka Haavisto of the Greens of Finland securing just 12.4 percent.
"I am very surprised at this kind of support. I must think hard how to be worthy of it," Niinisto, 69, told reporters.
"I have no intention of making changes just for the sake of making changes. Surely we will follow very closely what is happening outside of Finland, globally, and if needed, then wewill surely react."
Pro-EU Niinisto became the first candidate to win a first round victory since the electoral system was changed to a direct popular vote in 1994.
Eurosceptic politicians, Laura Huhtasaari from the nationalist Finns Party and independent Paavo Vayrynen, won 6.9 percent and 6.2 percent of votes, respectively. Turnout was 69.9 percent.
During his first six-year term, Niinisto was instrumental in maintaining relations with Moscow, despite Finland backing western economic sanctions against Russia over its 2014 annexation of Crimea from Ukraine.
Finland, which shares an 833-mile (1,340 km) border and a difficult history with Russia, has also developed closer ties with NATO but stopped short of full membership in line with a tradition of avoiding confrontation with Russia.
The president is in charge of foreign and defence policy together with the government, but otherwise the post has become largely ceremonial in the past few decades.
Despite Finland's stance on sanctions against Russia, Niinisto has appeared as a low-profile middle-man between East and West and maintained regular contacts with Russian President Vladimir Putin.
He originally belonged to centre-right National Coalition Party (NCP) but campaigned this time around as an independent.
A lawyer by training, he was finance minister in the 1990s, becoming known for his government's austerity measures following Finland's recession, as well as the decision to join the euro area.