Families recall spirit of Kentucky school shooting victims
Comments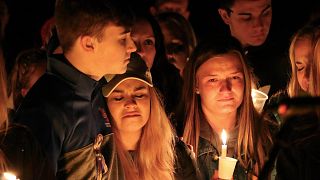 -
BENTON, Ky. — The aunt of one of two teenage victims of a school shooting in Kentucky described her Saturday as an "old soul" who was simple, easy to love and "the salt of the Earth."
Tracy Tubbs told reporters that her niece, 15-year-old Bailey Holt, was a "sweatshirt kind of girl" who often wore jeans and Converse shoes. Tubbs said Holt listened to classic rock bands like AC/DC and Van Halen and was a big fan of the Louisville Cardinals athletic teams.
"How great our Lord and savior is," Tubbs said. "He chose us to have this beautiful creature in our lives for 15 short, magnificent years."
Holt died at the scene of the shooting Tuesday at Marshall County High School in Benton. Fifteen-year-old Preston Ryan Cope was declared dead at a Nashville hospital. Their funerals are scheduled on Sunday. A 15-year-old boy is being held on murder and assault charges in the shooting. Police said 14 students were wounded by gunfire and seven others suffered other injuries when the boy opened firebefore classes began.
Tubbs spoke on behalf of the Holt family. Jackie Reid, principal of Sharpe Elementary School in Benton, spoke for Cope's family. Both women read statements from the families before answering a few questions from reporters.
"To hear how much Preston was loved has been such a blessing," Reid said. "He was caring, compassionate, had a gentle spirit and the biggest heart."
Cope was on the school baseball team and was a fan of the St. Louis Cardinals, Reid said. He also loved the outdoors, spending time with his family and learning about history, Reid said.
"In the past year, I believe they took a trip and Preston got to kind of choose where they went, different places like Gettysburg and places like that," she said.
The teens were in kindergarten together and grew up side-by-side in the tight-knit community. Tubbs said Holt called her mother as the shots rang out Tuesday.
"By the time her mother answered the phone, Bailey was gone," Tubbs said.
Townspeople have been galvanized in support of the families and "faith in our community has been restored," Tubbs said.
"We will get through this and we will be more like Bailey going forward," she said. "We will hug tighter, we will love harder and we will be more present with our families."