8 survivors found adrift in search for missing ferry in Pacific
Comments
By Phil Helsel with NBC News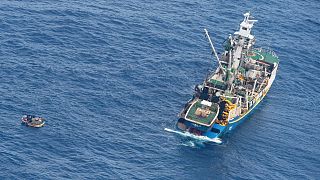 -
Copyright

Royal New Zealand Air Force
A dinghy with eight people on board believed to be survivors from a missing ferry in the Pacific Ocean has been found a week after the larger vessel disappeared, New Zealand authorities said Sunday.
"The crew has dropped them aid supplies containing water, food and a radio and are currently trying to establish communication with them," Royal New Zealand Defence Force Air Commodore Darryn Webb said of the survivors in a statement.
The around 55-foot wooden catamaran ferry MV Butiraoi with an estimated 50 people on board was traveling between two islands in the nation of Kiribati when it went missing. It left Nonouti Island for the nearly 150-mile journey to Betio on Tarawa Jan. 18 and was supposed to arrive two days later, New Zealand officials said. Local authorities had been searching for the ferry, and New Zealand announced it was joining the search Friday local time.
The five-meter (16-feet) dinghy was located by a P-3K2 Orion aircraft, New Zealand's air force said. A fishing vessel northeast of the dinghy's location was headed towards the vessel, it said.
"The Orion will continue to search the area, making every effort to locate any more survivors, while awaiting the rendezvous with the fishing vessel," Webb said. The MV Butiraoi is believed to have carried two dinghys.
The military initially said that seven people were on the dinghy. Maritime New Zealand said that eight were on board.
The supplies were dropped to the people on the dinghy at around 10 a.m. Sunday New Zealand time (4 p.m. Saturday ET), Senior Search and Rescue Officer John Ashby said. "The group seem very relieved to have been found," he said.
The military has said that the ferry's propeller shaft was repaired just before the trip, and that may have contributed to problems on the journey.
Maritime New Zealand said the dinghy with the survivors in it was found about 300 kilometers (around 186 miles) southeast of the island country of Nauru, which is southwest of Tarawa.