Snowboarding: Anderson proves he's still got what it takes
Comments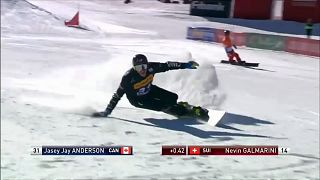 Veteran snowboarder Jasey Jay Anderson has proved he's still got what it takes. The 42-year-old Canadian glided into the lead in the parallel giant slalom in the world cup at Bransko, Bulgaria. Swiss rider Nevin Galmarini came in second, extending his overall lead.
Czech Republic's Ester Ledecka won the women's event, giving her an unbeaten run in every world cup she's started this season.
Both the men and women each have another World Cup event on Sunday (January 28), before a month's break in the run-up to the Pyeongchang Winter Olympics.