Romney, aides plot out possible Senate run
Comments
By Kasie Hunt and Jonathan Allen and Alex Moe with NBC News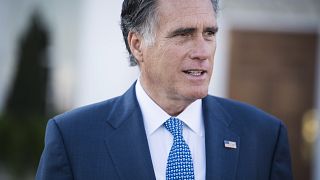 Copyright

Jabin Botsford The Washington Post via Getty Images

-
WASHINGTON — Mitt Romney is stepping up preparations for a possible Senate bid in Utah, two people familiar with his plans told NBC News Thursday.
Top advisers to the 2012 Republican presidential nominee met earlier this week to plot out his next steps, including hiring staff and potentially planning a drive to gather signatures so that he can qualify for the ballot, one of the people said.
Though Romney grew up in Michigan and served as governor of Massachusetts, he was credited with rescuing the troubled 2002 Winter Olympics in Salt Lake City, and he has a network of well-placed political supporters in the state.
Polls show he would start a campaign as the overwhelming favorite. He led 64 percent to 19 percent over Democrat Jenny Wilson in a survey released by The Salt Lake Tribune and the University of Utah's Hinckley Institute for Politics this week.
Should Romney run and win, he would be able to combine his existing national profile with the platform of a Senate seat — and the media attention afforded to newly elected stars of the Senate — to help shape political and policy debates in the nation's capital.
That would be a welcome development for establishment Republicans who have seen Romney as a spokesman for their worldview in the era of President Donald Trump. Similarly, Romney's arrival in the Senate could be a headache for Trump himself.
The relationship between the last two Republican presidential nominees has ranged from caustic to barely cordial over the course of Trump's political career. During the 2016 GOP primary, Romney called Trump a "phony" and a "fraud" and said the future president was "playing the members of the American public for suckers."
Trump shot back that Romney had begged for Trump's endorsement in 2012.
"I could have said, 'Mitt, drop to your knees,'" Trump said. "He would have dropped to his knees.
After Trump won the presidency, he and Romney dined together as they discussed whether Romney would be named secretary of state. Ultimately, the job went to Rex Tillerson. Since then, he has been a sometimes harsh critic of Trump and his political allies.
The Senate seat is coming open because Sen. Orrin Hatch has announced that he will not seek election to an eighth term. Under state law, Romney would have to declare his intention to begin collecting signatures for a ballot position by March 15.