Ex-Brazilian president Lula da Silva denies corruption after court upholds conviction
Comments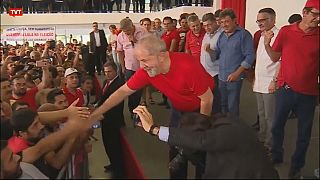 Former Brazilian leader Luiz Inacio Lula da Silva has vowed to go on fighting to regain the presidency despite losing an appeal against a corruption conviction.
At Wednesday's hearing, judges also increased his July sentence from nine-and-a-half years to 12 years in jail.
Lula can still take his case to a higher court.
He is is currently the front runner in Brazil's October presidential election but the court's decision is likely to have stopped him being a candidate. Following the ruling Lula told supporters that he has a clear conscience and will go on fighting for the Brazilian people and democracy."
Lula's conviction has angered his loyal supporters and members of his Workers' Party who say the corruption charges have been politically motivated.
But Brazil is still reeling from a massive graft scandal known as "Operation Car Wash" which has touched all levels of society. His critics say he has been found guilty of taking a bribe from an engineering company vying for government contracts in 2003 and he should go to prison.