Tammy Duckworth is pregnant, would be 1st senator to give birth in office
Comments
By Dartunorro Clark with NBC News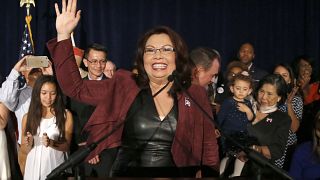 Copyright

Charles Rex Arbogast AP

-
Sen. Tammy Duckworth has good news — and it isn't just high approval numbers.
The 49-year-old Illinois Democrat announced Tuesday that she is pregnant with her second child, due later this year. She would become the first senator to give birth in office, though not the first member of Congress. Ten members of the House of Representatives have had children while serving in the chamber.
"Bryan and I are thrilled that our family is getting a little bit bigger, and Abigail is ecstatic to welcome her baby sister home this spring," Duckworth said in a statement, referring to her husband and 3-year-old daughter.
The Chicago Sun-Times was the first to report the news. A spokeswoman for the freshman senator told the Sun-Times that Duckworth is approximately six months pregnant.
In her statement, Duckworth thanked the staff at hospitals in Illinois and Washington, both of which she said helped her through her journey to conceive a second child.
She added that her experiences as a working mother have given her a particular perspective serving in Congress, where she has championed issues affecting working families.
"Parenthood isn't just a women's issue, it's an economic issue and an issue that affects all parents — men and women alike," she said. "As tough as juggling the demands of motherhood and being a senator can be, I'm hardly alone or unique as a working parent, and Abigail has only made me more committed to doing my job and standing up for hardworking families everywhere."
An Iraq war veteran who became a double amputee after the helicopter she was co-piloting crashed in Iraq in 2004, Duckworth was elected to the House in 2012. In 2016, Duckworth won her Senate seatby defeating Republican incumbent Mark Kirk.