Maduro says he's ready to stand for re-election
Comments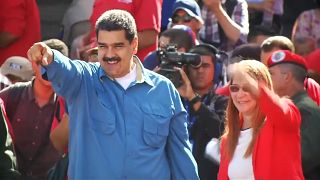 Venezuelan President Nicolas Maduro says he's ready to stand for re-election.
His comment came after the pro-government constitutional assembly ordered a presidential poll to be held months ahead of when the country's presidential voting has traditionally taken place.
Maduro said he would relish the opportunity to measure up against his opponents.
"I am at the service of this people. If the Socialist Party, if the strength of the great patriotic people, if my working brothers, if the working class, if women, if the youth believe that I should be the presidential candidate of the fatherland, of the revolutionary sectors that love this country, I am ready to be a presidential candidate if the social and political forces of the Bolivarian Revolution decide."
Many see the move as Maduro's bid to capitalise on opposition disarray. Two time-time presidential candidate Henrique Capriles, is prohibited from holding office over allegations of "administrative irregularities".
And former mayor Leopoldo Lopez is under house arrest for leading protests against Maduro, while his young protege Freddy Guevara has taken refuge in the Chilean embassy to avoid charges of plotting against Maduro.
Maduro's confidence flies in the face of months of unrest on the streets. The unpopular leader has been decried by his critics as a dictator who has all but wrecked the OPEC member country's economy.