Law and order breakdown in parts of inflation-hit Venezuela
Comments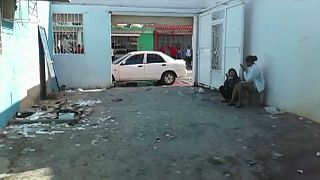 Shops and homes have been looted for a second day in the once prosperous town of Ciudad Guayana in north east Venezuela.
With inflation at the rate of 2,600% many are struggling to buy food and medicines ... that is if they are on sale in the first place.
Anger and frustration have sparked unrest and the National Guard are often too stretched to maintain law and order:
"I was on my way but when I arrived this morning all that we could see was this .... everything has been destroyed," said one shop owner.
Another tearful owner said, "With everything it takes to have anything… and for it to be gone in five minutes. I just kept thinking the worst. For us to end up like this, with nothing."
At least five food stores were looted over night and police sources say 20 people have been arrested, but its not just the shops which are vulnerable:
"My home's been looted and they've stolen all our belongings... they've left us practically naked. They've taken the air conditioners, the refrigerators, everything. Even the laundry basket was taken away."
Critics blame President Nicolas Maduro and the ruling Socialist Party for Venezuela's economic mess, accusing them of persisting with failed policies and turning a blind eye to corruption. The government claims it is the victim of an economic war by political opponents and right-wing foreign powers.