Venezuela opposition accepts EU's top human rights prize in Strasbourg
Comments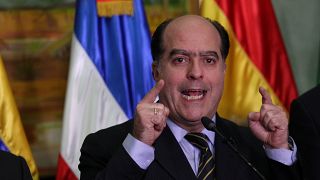 Copyright

REUTERS/Ricardo Rojas
President of the Venezuelan National Assembly and leader of the opposition Julio Borges and representatives of political prisoners are accepting the Sakharov Prize for Freedom of Thought on Wednesday on behalf of the 2017 winners: the Democratic Opposition in Venezuela.
More than 130 members of the opposition and those sympathetic to the movement have been killed and more than 500 others were arbitrarily imprisoned this year, according to European Parliament. 
The Sakharov Prize is awarded each year to people around the world who make an exceptional contribution to human rights.
Watch the ceremony