Drop in tourism to the U.S. means a $4.6B hit to the economy
Comments
By Ben Popken with NBC News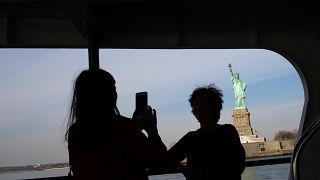 -
Travel to the U.S. has been on the decline ever since President Donald Trump took office, and new data shows the slump translates to a cost of $4.6 billion in lost spending and 40,000 jobs.
The latest data from the National Travel and Tourism Office shows a 3.3 percent drop in travel spending and a 4 percent decline in inbound travel.
The downturn has also caused America to lose its spot as the world's second-most popular destination for foreign travel, ceding to Spain.
International tourism to the U.S. began to wane after Trump took office, leading to a so-called Trump slump. Experts say that Trump's proposed travel bans and anti-immigration language have had a negative impact on the U.S.'s attraction for foreign visitors, in addition to a weaker dollar and heightened security measures.
"It's not a reach to say the rhetoric and policies of this administration are affecting sentiment around the world, creating antipathy toward the U.S. and affecting travel behavior," Adam Sacks, the president of Tourism Economics, told The New York Times.
The U.S. Travel Association plans to launch a "Visit U.S." lobbying campaign to encourage Washington to embrace the vital economic impact of foreign tourists, reports The Los Angeles Times.