Neil Diamond retires from touring, citing Parkinson's
Comments
By Alex Johnson with NBC News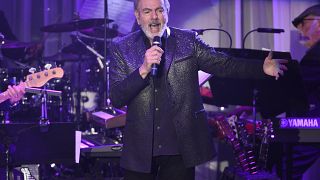 Copyright

Chris Pizzello AP

-
Neil Diamond, the pop music craftsman who ranks among the best-selling musical artists in history, is retiring from concert touring because of Parkinson's disease, he said Monday.
Diamond, who turns 77 on Wednesday, revealed the recent diagnosis in a statement on his website announcing the cancellation of his March tour dates in Australia and New Zealand.
"It is with great reluctance and disappointment that I announce my retirement from concert touring," Diamond said in the statement, which said Diamond's condition "has made it difficult to travel and perform on a large scale basis but will allow Mr. Diamond to continue his writing, recording and development of new projects."
Diamond — it's his real name, not a stage name — began his career as a songwriter in the early 1960s, writing some of the Monkees' biggest hits, including "I'm a Believer," which topped the Billboard charts for seven weeks in 1966.
At the same time, he was recording some of his compositions as demos for record producers. The same year "I'm a Believer" hit No. 1, Diamond released the single "Solitary Man," which hit the middle of the Billboard charts and was followed by "Cherry, Cherry," a Top 10 smash that launched him on one of the most successful solo recording careers of the 20th century.
Diamond's impeccably crafted, hard-to-stop-humming tunes dominated the pop charts for the next decade, as he turned out hit after hit — among them "Sweet Caroline," "Cracklin' Rosie," "Song Sung Blue," "He Ain't Heavy, He's My Brother," "I Am, I Said," "Play Me," "Longfellow Serenade" and "Forever in Blue Jeans," along with "You Don't Bring Me Flowers," a No. 1 duet with Barbra Streisand.
Related: Neil Diamond reveals 'Sweet Caroline' is about more than JFK's daughter
In 1979, Diamond collapsed on stage in San Francisco and was found to have a tumor on his spine. After weeks of rehabilitation, he returned with a busy schedule that included more hits and the movie "The Jazz Singer," a remake of the Al Jolson classic that pioneered talking pictures.
The movie was widely panned, but it produced three more Top 10 hits — "Love on the Rocks", "Hello Again" and "America."
Diamond's last major hit came in 1982, when "Heartlight" hit No. 5 on the U.S. charts. But he has remained an enormous live draw throughout the intervening 35 years, playing for crowds topping 100,000 in arenas around the world.
Related: Neil Diamond — an unlikely pop icon
He started his 50th-anniversary tour in April 2017; the New Zealand and Australia dates that were canceled Monday were to have been part of that marathon celebration.
"I am devastated and saddened to hear the news of Neil's illness and his retirement from touring," said Paul Dainty, president of TEG Dainty, organizer of the March concerts.
"He is one of the world's greatest artists and we and his thousands and thousands of fans here will miss seeing him tour down under," Dainty said.
The Recording Academy announced Jan. 9 that Diamond is to receive a Grammy Award for lifetime achievement — the latest in a long line of honors that saw him be inducted into the Rock & Roll Hall of Fame and receive the Kennedy Center Honors in the same year, 2011.
His Hall of Fame citation declares: "Diamond's prolific half-century as a professional musician has yielded one of the most enduring catalogs in American popular music."