Bill Cosby performs at Philadelphia jazz club ahead of retrial
Comments
By Daniella Silva and Tim Stelloh with NBC News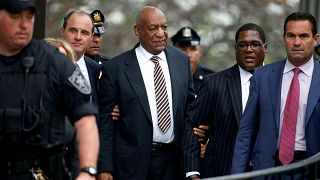 Copyright

Brendan McDermid Reuters file

-
Bill Cosby took the stage Monday at a jazz club in Philadelphia — in a rare public appearance just two months before jury selection is scheduled to begin in his retrial for a sexual assault case.
Cosby, 80, cracked jokes, played with a jazz band and told stories about his childhood to a mostly friendly audience at LaRose Jazz Club for an event honoring the musician Tony Williams, NBC Philadelphia reported.
Cosby, whose appearance was billed as a "special performance," was on stage for roughly an hour, according to the station.
He did not mention the looming trial.
After leading the band through a set in which he scatted and played the drums, Cosby gave his drumsticks to the young son of the band's bass player, NBC Philadelphia reported. Then Cosby asked the boy if he knew who he was.
"I used to be a comedian," Cosby said.
The appearance comes after a judge ordered on Friday that jury selection would begin on March 29 for Cosby's retrial on charges that he drugged and sexually assaulted Andrea Constand in 2004, court records show.
In an email to NBC News, Constand's lawyer, Dolores Troiani, said she hadn't seen Monday's performance.
"Right now the only thing I can say is the arrogance of this man leaves every decent person speechless," she said.
Cosby's first trial on the case ended with a hung jury in Pennsylvania in June. The jury was deadlocked on all counts after 52 hours of deliberations.
Cosby was also spotted in Philadelphia by photographers on Sunday, donning Philadelphia Eagles gear ahead of the NFC Championship game.
A journalist for WHYY News in Philadelphia posted a video on social media of Cosby on stage in a hoodie interacting with the laughing and smiling crowd Monday night.
Ebonee Benson, a representative for Cosby, said Monday that she had no further comment on his performance or on the jury selection.
Cosby's retrial comes in the midst of theglobal #MeToo movement highlighting sexual harassment and misconduct.
Prosecutors said last week that they are asking the judge in the case to let 19 women testify against the TV star to show a pattern of predatory behavior.
"This evidence is relevant to establish that an individual who, over the course of decades, intentionally intoxicated women in a signature fashion and then sexually assaulted them while they were incapacitated, could not have been mistaken about whether or not Ms. Constand was conscious enough to consent to the sexual contact," Montgomery County District Attorney Kevin Steele wrote in a motion Thursday.
Prosecutors had asked that same judge to let 13 other accusers testify against Cosby, but the judge decided to let just one other accuser tell her account of being drugged and abused by the comedian.The comedian has been accused by dozens of women of sexual misconduct and abuse spanning decades, but Constand's is the only incident that has resulted in a criminal trial for Cosby.
Cosby denies all the sexual misconduct allegations against him and has sued some women for defamation. He also contends his contact with Constand was consensual.
Cosby's retrial was supposed to start Nov. 6, but was delayed until March to allow his new high-profile legal team to get up to speed. His defense lawyer is Tom Mesereau, best known for representing Michael Jackson.
Constand testified in Junethat she was "humiliated" after Cosby gave her pills and sexually assaulted her in his home in 2004.
"I was frozen ... I was very limp," Constand, 44, said at the time as Cosby, sitting a few feet away, put his forehead in his hand and shook his head.
"I wanted it to stop," she said at the time.
Reps for Constand did not immediately returns requests for comment Monday.
Cosby has pleaded not guilty to the three counts of aggravated indecent assault, a charge that carries 10 years in prison, that he faced. The district attorney's office charged Cosby after allegations from other women began piling up in 2014.
Ironically, the renewed wave of allegations against Cosby began with a comedian on a Philadelphia stage: In the fall of 2014, jokes Hannibal Buress made at Cosby's expense went viral and led to increased coverage of the former sitcom star's accusers. Afterwards, dozens of women came forward detailing similar allegations of drugging and/or sexual assault by Cosby.