Japanese marathon runners are geniuses
Comments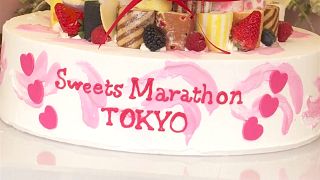 For many people a marathon is a great way to get in shape.... and for runners in Japan it's a great way to eat a little bit more of what they love!
Aid stations don't have water or energy tablets - instead there are treats provided by Tokyo's pastry shops.
Runners pay 6,500 yen, almost fifty euros to take part. Runners can eat as many cakes as they like - although they're advised not to gorge too much!
One runner explained why she did the race:
"There are many kinds of sweets, and I want to taste them. Meanwhile, I can also take part in sports."
Runners can also buy their favourite cakes after they've finished.
The marathon has been growing in popularity year on year and it's no surprise why. It's also expanded into other Japanese city. Here's to hoping it'll arrive in Europe soon!