Romanian walks 450km to join Bucharest anti-corruption protest
Comments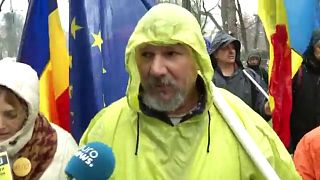 Some 50,000 people tonight took to the streets in Bucharest, Romania to protest corruption in the country.
Across Romania, thousands more marched in big cities including Timisoara, Constanta, Bacau, Sibiu and Iasi, upset about government moves that they said would put the justice system partially under political control.
Euronews spoke to Sorin Bobis who walked from Cluj, in Transylvania, to Bucharest to join the march.
"Through our gesture, we wanted to mobilise them (Romanians) to go out in the streets and ask for their rights," he said.
The journey of 450km, which saw him cross the centre of the country, took 11 days.
Bobis started out from Cluj with a small team of five and ended in Bucharest with a 15-strong group.
He said he managed the epic journey by breaking it down into 11 parts.
For the first two days of his march Bobis and his group were on their own but as news spread they found themselves being welcomed into peoples' homes for food and a place to sleep.
"What we want is what the whole country wants, another kind of politics, another type of leaders, less interested in their own interests, but more interested in the interest of the population," he concluded.