Photos: Lester Holt reports from North Korea ahead of the Olympics
Comments
By NBC News with NBC News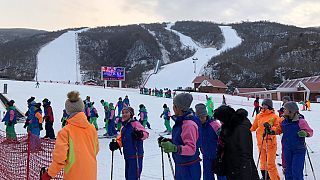 -
As North Korea and South Korea have engaged in negotiations over the upcoming Olympic Games, the world is holding its breath over whether there is truly a thaw in relations between the two nations.
NBC News' Lester Holt traveled to a modern ski resort about four hours outside the capital city of Pyongyang, where athletes from North and South Korea are training for the Olympics. He said the joint training is a result of the recent talks between the neighboring nations.
For more, Holt anchors live from Seoul on Tuesday's "Nightly News."