Government shutdown 2018: What's open and what's closed?
Comments
By Dartunorro Clark and Pete Williams and Tim Stelloh with NBC News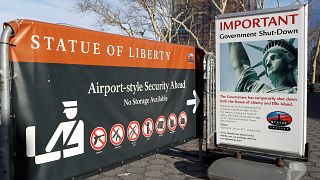 -
The Statue of Liberty will begin accepting huddled masses again on Monday, thanks to a funding agreement struck with New York State after Congress failed to pass a spending bill and sent the federal government into shutdown mode on Saturday.
But forget visiting the Liberty Bell and Independence Hall in Philadelphia, where the Declaration of Independence and Constitution were signed, and federal workers deemed "nonessential" are furloughed, or temporarily laid off.
"Essential" federal workers are still on the job. Airports, national mail service, national security and law enforcement operations, among government functions, are still operating. But most federal buildings — including the Liberty Bell Center and Independence Hall — are closed. Some are still open with non-furloughed employees, although not to the public.
But there are some noticeable differences between this shutdown and the last one, in 2013.
Mick Mulvaney, the director of the Office of Management and Budget, said this shutdown will be different because agencies will be encouraged to use available funds to keep parts of the government operating. He said 2013 shutdown was "weaponized" by the Obama administration to achieve maximum disruption.
"We're not going to weaponize it," he told reporters at a briefing on Friday.
This time, for instance, Americans will still be able to visit national parks and landmarks. During the 2013 shutdown, the Interior Department concluded that keeping parks open was not essential.
There is no federal law that automatically determines what stays open and what does not during a shutdown. In general, government operations cease because the money runs out, but there are exceptions.
Who's working and what's open?
**
**
FBI agents, Transportation Security Administration screeners at the airports and the Coast Guard are still on the job. Meat and poultry inspectors, air traffic controllers and members of Congress, excluding their staffs, are also still working (and likely scrambling to find a solution to ending the shutdown).
Most federal employees, which includes staff at the Centers for Disease Control and Prevention, who are dealing with the flu epidemic, and staff at the Internal Revenue Service, who are dealing with the new tax law and beginning to process tax returns, remain on the job. So do national park rangers.
U.S. Customs and Border Protection agents are also on the job.
The Smithsonian Institution's museums, the National Zoo, Veteran Affairs hospitals, federal courts and the U.S. Postal Service are open.
Recipients will still receive Social Security checks, Supplemental Security Income, unemployment pay, Temporary Assistance for Needy Families, food stamps and medicaid benefits because they're not paid out of annual appropriations by Congress.
Federal prisons are still operating. Also, Robert Mueller's special counsel investigation, which is funded directly by Congress, not the Department of Justice, will still be in business.
Who stays home and what's closed?
The Statue of Liberty National Monument and Ellis Island were briefly closed because of the shutdown, though the National Park Service said in a statement Sunday that they would reopen after reaching a funding agreement with New York State.
Gov. Andrew Cuomo had championed the move, describing the statue as an important economic driver and "a symbol of New York and our values. And her message has never been as important as it is today," he said.
But elsewhere in the federal government, employees were not so lucky. The Department of Health and Human Services issued a memosaying that it would furlough 50 percent of its staff and cut back certain services, such as Indian Health Services and child welfare programs. It continues treating current patients, however.
The Defense Department also issued guidance saying military and civilian personnel will continue normal duty but would not be paid. Military death benefits will also not be dispersed.
The Department of Education said in a memo that more than 90 percent of its total stafffor the first week would be sent home, but federal financial aid workers would still report to work.