Turkish President Erdogan says a ground operation has begun in Syria's Afrin region
Comments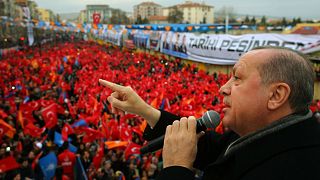 Turkish President Recep Tayyip Erdogan said on Saturday a military operation in Syria's Kurdish-controlled Afrin region had begun after cross-border shelling by the Turkish army.
Turkey's army said on Saturday it hit shelters and hideouts used by militants from three groups - the Kurdistan Workers' Party (PKK), PYD and YPG, after militants fired on Turkish positions inside Turkey.
"We will destroy the terror corridor gradually as we did in Jarabulus and El-bab operations, starting from the west. Afrin operation has de-facto started in the field. Manbij will follow," Erdogan said.
Erdogan has repeatedly said he would crush the Syrian Kurdish militia in Afrin, which he views as a security threat to Turkey.
Direct military action against territory held by Kurdish militia opens a new front in Syria's civil war and sees Ankara confronting Kurds allied to the United States at a time when Turkey's relations with Washington are reaching breaking point.
The US State Department called on Turkey to focus on the fight against Islamic State militants and described Turkish activity in Afrin as destabilising.
Defence Minister Nurettin Canikli said on Friday that Turkey's operation in the region had started with cross-border shelling, but no troops have gone into Afrin.
Later on Saturday the Kurds accused the Turks of launching air strikes against residential areas in Afrin.