Turkey wants international support for its 'olive branch' offensive
Comments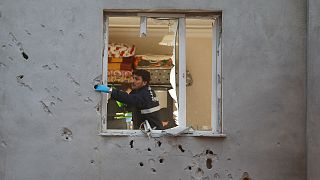 -
Copyright

REUTERS/Osman Orsal
Turkey has called for international support in its fight against Kurdish YPG fighters in Syria's Afrin region.
For the third consecutive day, Turkish warplanes and rebel allies have hit numerous targets and seized control of several areas held by the US-backed militia.
YPG official Nouri Mahmoud said however that Turkish-backed forces had not taken any territory in Afrin. "Our forces have to this point repelled them and forced them to retreat," he told Reuters.
Germany has expressed concerns over civilians caught up in the fighting but Turkey's President Recep Tayyip Erdogan has vowed there'll be no let up until the operation is complete.
Russia, a military ally of Syrian President Bashar al-Assad, operates a major air base in Syria but has not confirmed authorising the campaign - which Syria has strongly objected to - but did not appear to be acting to prevent it.
**New battle front **
The campaign has opened up a new front in Syria's complex civil war.
Ankara considers the YPG to be a terrorist group linked to Kurdish insurgents in Turkey and  Washington's support of them has severely strained ties with Ankara.
Erdogan has also pledged to drive the Syrian Defence Forces from the eastern town of Manbij, which lies in a much larger area of northern Syria controlled by the SDF.
Meanwhile, the casualty list continues to grow on both sides.
Turkish officials say dozens of people were hurt by a rockets fired from inside Syria into two Turkish border towns. 
A spokesman for the SDF said the death toll stands at 18 civilians, including women and children.
France has called for an emergency meeting of the UN security council while Britain says it's looking at ways to avoid any further escalation.