Youth sports venture wins LeBron's backing
Comments
By Claire Atkinson with NBC News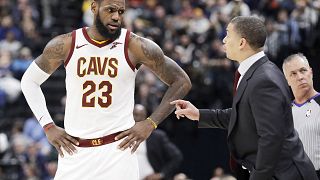 Copyright

Darron Cummings AP

-
When Brandon and Bradley Deyo, 26-year-old twins, dropped out of the University of Maryland to pursue their nascent sports streaming venture, their mother was not pleased.
She's much happier now that LeBron James is one of several high-profile names to have invested in her sons' company, Mars Reel, a name meant to suggest something out of this world.
Started in 2010, Mars Reel streams video highlights of athletes, mostly high school but some college, on social media platforms like Instagram, Twitter, Snapchat, YouTube and Facebook.
The brothers say they recently raised $2.7 million from a host of new partners, including James, the star of the Cleveland Cavaliers; Maverick Carter, James' business partner; the hip-hop artist Nas; Steve Stoute, who runs the marketing agency Translation and the tech investor Robert Hisaoka.
Mars Reel and Uninterrupted, a digital media company founded by James and Carter, announced the new investors in Mars Reel this month, along with a content-sharing agreement.
Shane Battier, James' former Miami Heat teammate, and Jason Robins, chief executive of DraftKings, the fantasy-sports website, are past investors in Mars Reel.
The Deyos got the idea for a sports-highlight network that would attract the attention of talent scouts while playing basketball for Richard Montgomery High School in Rockville, Maryland. Being raised by a single mother, they couldn't afford basketball camp, so figured they'd share video of themselves and their friends shooting hoops on social media instead.
The brothers built a micro version of ESPN for youngsters by contracting an international network of around 600 young sports producers to write, shoot and edit video, which is then distributed on social media. Eye-catching dunks and top plays of the week are shared along with player-led diary series and links to individual player's websites.
Mars Reel garnered 25 million unique views in its first four years, from 2010-2014, while last year it counted 148 million unique views, according to data shared by the company. So far the company, based in Hollywood, California, has just seven employees but recently hired a director of sales to begin addressing sponsorship.
The company covers sports as news, which allows it to avoid paying the high copyright costs of bigger sports video ventures. "When we go to games, we are credentialed by the schools," Brandon Deyo said. "We have press credentials to get into the gym."
Brandon also said Mars Reel is "the primary source for everything we publish."
"Even the music in the videos is made in-house," he said. "It's custom made for the audience."
The company started covering just basketball but is moving into football, soccer and mixed martial arts. "Our goal is to emerge as a sports media brand with more than one sport," Brandon said. "Part of this [finance] raise is helping us get close to this."
So far, Mars Reel has helped several high school basketball players get the attention of scouts, including Zion Williamson, a senior forward at Spartanburg Day School in Spartanburg, South Carolina, who is one of the most sought-after high school players in the country and is scheduled to announce his college choice as early as this week. Mars Reel has also covered the early career of Karl-Anthony Towns, who now plays for the NBA's Minnesota Timberwolves.
When the Deyo brothers met LeBron James in June 2016 on the Warner Bros. campus in Burbank, after an introduction by Carter, they talked about the importance of reaching younger viewers where they consume media — on mobile social platforms. "You don't get to meet LeBron everyday," said Brandon, who admitted being excited about meeting his idol but said he managed to "stay focused on telling the story of the company."
Carter, who grew up with James and is the chief executive of Uninterrupted, said he was impressed by the Deyos' "work ethic and their commitment to creating great content."
"What they've been able to do through their product is reach that millennial audience with content they care about, which is hard to do," Carter said in the statement announcing the Uninterrupted-Mars Reel agreement.
"We want to work with them on expanding their content offering into more long-form storytelling, which is at the core of what we do," he said.
The brothers were raised by a single mother, Theresa Deyo, and Brandon says that when he and Bradley were in college, they had a meal plan and access to computer labs, which made it easier to get by.
"It's not something I make part of my pitch," Brandon said of his background. "People have harder situations than we had. We made the most of it."
Their mother couldn't agree more. "She Googles my name everyday," Brandon said.