Trump blasts Roe v. Wade in satellite address to anti-abortion rally
Comments
By Ali Vitali with NBC News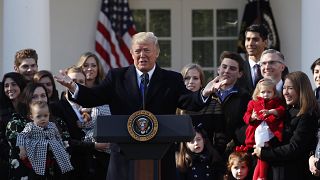 Copyright

Kevin Lamarque Reuters

-
WASHINGTON — President Donald Trump addressed anti-abortion activists at the March For Life Friday, beaming into the Washington, D.C., rally via satellite from the White House Rose Garden.
"The March for Life is a movement born out of love," Trump said.
As he spoke, huge cheers erupted from the crowd gathered just a few miles away. Trump lambasted Roe v. Wade, the landmark Supreme Court ruling that reinforced a woman's constitutional right to an abortion, as a decision that allowed for "some of the most permissive abortion laws in the world" and advocated for an end to late-term abortions.
Trump also talked up a just-announced Health and Human Services department regulation that reversed Obama-administration rules that "restricted state's efforts to direct Medicaid funding away from abortion facilities that violate the law" as well as a "new proposal to protect ... religious freedoms of doctors, nurses and other medical professionals."
"So important," Trump said.
His appearance Friday made him the first to join the long-running, annual event by satellite, but the third Republican president to speak to the group. Presidents Ronald Reagan and George W. Bush both phoned into the conference during their time in office.
To Kellyanne Conway, counselor to the president, it's just another reason why she called Trump "the most pro-life president in our nation's history" in a Friday morning interview with Fox News.
So far, Trump's conservative agenda has been largely met with approval from anti-abortion activists.
Not only has Trump appointed a slate of conservative justices to courts across the country, but his Department of Health and Human Services has taken aim at key family planning policies.
The new HHS rule Trump touted in his address, which the department announced prior to Trump taking the podium, seeks to protect health care practitioners who do not believe in certain medical practices, such as abortion and sterilization, and allow them recourse through the Office of Civil Rights at HHS if necessary.
It was unclear Friday what the impact of the new rule would be at pharmacies, which, for example, sell medications such as prescription birth control pills as well as over-the-counter emergency contraception.
"This is not about denying anybody any health care to which they're entitled to," Roger Severino, director of the HHS Office of Civil Rights, told reporters Friday when discussing the new regulation. "It's about protecting the right of people to provide the services in accordance with the religious beliefs and moral convictions."
With that new regulation came the roll back of an old one from the Centers for Medicare and Medicaid Services, who issued a letter to states Friday undoing a 2016 rule from the Obama administration that barred states from denying access to certain health care providers, like Planned Parenthood.
The move is part of what Charmaine Yoest, assistant secretary of public affairs at HHS and the former president of Americans United for Life, a leading anti-abortion organization, called the Trump administration's commitment to rolling back Obama-era regulations that "radically favor abortion."
Planned Parenthood said Friday the actions were yet another attempt to "infringe on our freedoms and take away rights."
"The law is clear, it is illegal to bar women from seeking care at Planned Parenthood. Longstanding protections within Medicaid safeguard every person's right to access care at their qualified provider of choice," Dawn Laguens, executive vice president for the Planned Parenthood Action Fund, said in a statement.
In October, HHS made it easier for employers to refuse to offer birth control coverage in insurance plans on religious or moral grounds — a move that coincided with Trump's Justice Department issuing guidancethat would allow individuals and organizations to claim broad exemptions to nondiscrimination laws on religious grounds.
Though his administration has been consistent on the issue, Trump's own stance on abortion has evolved over the years.
Throughout the 2016 campaign, Trump ran on a pro-religious freedom, anti-abortion platform, though it included exceptions for rape, incest and when the life of the mother is in danger. But that position was, in his terms, an evolution from his prior statements supporting a women's legal right to access an abortion.
In 1999, Trump said he was "very pro-choice," despite hating "the concept of abortion."