13 captive siblings allowed to eat once a day, shower once a year
Comments
By Sumiko Moots and Daniel Arkin and Corky Siemaszko with NBC News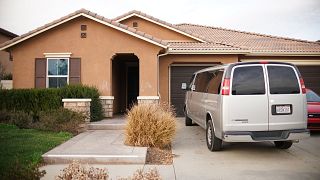 Copyright

Sandy Huffaker Getty Images

-
PERRIS, Calif. — The 13 starving siblings held captive in a California house hardly ever saw the sun and were allowed, a prosecutor said Thursday, to eat only one rationed meal a day and shower just once a year.
They were allegedly beaten, choked and shackled to their beds with no access to a bathroom for months at a time for supposed offenses like "playing with water" when they washed their hands.
Their parents would buy toys, the prosecutor said, but not let them play with them or even take them out of the packaging. They would make pumpkins pies and not let the hungry children eat them.
And one of the girls was the victim of a lewd act allegedly at the hands of her father, David Allen Turpin, Riverside County District Attorney Mike Hestrin said.
"This is severe, emotional and physical abuse. There is no way around that," Hestrin said. "This is depraved conduct."
Related: California torture house had not been inspected, officials say
Hestrin delivered what he called a "snapshot" of the alleged horrors visited on the children before the first court appearance by Turpin, 57, and his wife, Louisa Anna Turpin, 49.
The couple sat as their court-appointed lawyers entered not guilty pleas to more than three dozen charges that could send the couple to prison for 94 years to life. Turpin wore a blue blazer and his wife was dressed in black.
Bail was set at $12 million, David Macher, a lawyer for Turpin, said afterward.
"In more than 20 years as a prosecutor in Riverside County, this is one of the most disturbing cases I've seen," Hestrin said. "We are fully prepared to seek justice in this case and to do so in a way that protects all of these victims from further harm."
Both Turpins were charged with 12 counts of torture, seven counts of abuse on a dependent adult, 12 counts of false imprisonment and six counts of child abuse, Hestrin said.
Turpin was hit with an additional charge of committing a lewd act on a child by force.
Hestrin said the alleged victim was one of Turpin's daughters but did not divulge any other details.
Asked how he plans to defend a suspect whose alleged crimes have drawn outrage around the world, Macher said, "Well, it's going to be a challenge."
"What we would like the public to know is that our clients are presumed to be innocent, and that's a very important presumption," Macher said. "Second, we're going to provide a vigorous defense on behalf of Mr. Turpin."
The abuse of the children allegedly started during the 17 years the Turpins lived near Fort Worth, Texas, and intensified when they moved to California in 2010. They lived in the city of Murrieta until 2014 before moving to Perris, a small city some 70 miles southeast of Los Angeles.
It "started out as neglect" and became severe, pervasive child abuse, said Hestrin, who added that the charges cover just the eight years the Turpins lived in Riverside County.
The Turpins used ropes to bind the kids before switching to chains, he said.
All the children were born in hospitals, but they almost never saw doctors and never visited a dentist, Hestrin said. "These individuals sleep all day and are up all night," said Hestrin, who said they typically went to sleep between 4 a.m. and 5 a.m.
Earlier, a law enforcement source told NBC News that the children were allowed two showers a year. Hestrin said that it was just one shower a year and that one of the few things the Turpins allowed the kids to do was write in journals.
Hestrin said they have recovered hundreds of them and they "are going to be strong evidence of what occurred in that home."
The captives were supposed to be home-schooled, the DA added, but they were so clueless about the world that "many of the children didn't know what a police officer was."
Related: California couple brought children along for Vegas weddings
The secrets of the house on Muir Woods Road began to be revealed on Sunday when the Turpins' 17-year-old daughter and her younger sister escaped through a window.
"There was two of them that left the house," the DA said. "One of them turned back because she was afraid."
But the older girl kept going and called 911 for help with a cellphone she had found inside the house, Hestrin said.
And while she was described earlier by a law enforcement official as having the mental capacity of a much younger girl, the 17-year-old had been planning her escape for two years, Hestrin said.
The only child in the Turpin household that did not appear to be abused by the parents was the youngest, a 2-year-old girl "who was getting enough to eat," Hestrin said. By contrast, the 29-year-old daughter weighed just 82 pounds when she was rescued, he said.
When police got inside the house, they discovered a 22-year-old chained to a piece of furniture and two others who had managed to unshackle themselves. The rooms inside the brown-and-beige four-bedroom house reeked of urine.
Hestrin said only one of the children — a boy — was allowed off the premises to take classes, and he was always accompanied by his mother. He did not give any other details.
All of the children, who range in age from 2 to 29, have been admitted to hospitals for treatment for severe malnutrition.
"They are relieved," Hestrin said. "They are in good hands."
Doctors were concerned about the children going into shock since they are so malnourished, so they are receiving antibiotics, vitamins and nutrients, and psychologists will be brought in to evaluate them when their physical conditions improve, the law enforcement official said.
The Turpins had little contact with family in West Virginia, and shocked relatives have said they had no idea what the couple are alleged to have done.
"They were just like any ordinary family," said Turpin's 81-year-old mother, Betty Turpin. "And they had such good relationships. I'm not just saying this stuff. These kids — we were amazed. They were 'sweetie' this and 'sweetie' that to each other."
Betty Turpin told the Southern California News Group on Wednesday that her son had told her he had so many kids because God wanted him to, and that he shared her Pentecostal Christian faith but was not affiliated with a church in California.
"I feel they were model Christians," the elder Turpin said. "It's hard to believe all of this. Over the years, the Lord knows what happened."
Louise's sister, Teresa Robinette, said she had not been in touch but had no reason to suspect trouble. "We always thought she was living the perfect life," she said in an interview conducted in Knoxville, Tennessee. "She would tell us they went to Disneyland all the time. They would go to Vegas."
Robinette added that Louise left home at 16 to marry Turpin. She said the parents refused to let their children date or spend much time with other children.
"They weren't allowed to watch TV. They weren't allowed to talk on the phone, have friends over, stuff like that. Normal things that kids do."
Investigators are trying to determine if religion played a part in the imprisonment and alleged torture of the Turpin children, according to the law enforcement official. The minor children have been polite and cooperative, but they have not been able to provide statements, the official said. Investigators are still trying to obtain statements from the adult victims.
The grim discovery has raised questions about how this could happen at a house owned by a couple that had registered with the state Board of Education to run a home-school on the premises. But the state agency does not regulate or oversee private schools in California.
Private schools are subject to an annual inspection by the state or local fire marshal. But the Turpins never alerted Perris city officials they were operating one at their home, fire marshal Dave Martinez told NBC News.
"It's a home-school so it's not licensed," he said. "If it was a licensed facility, it would trigger our inspections."
Sumiko Moots reported from Perris, California. Daniel Arkin and Corky Siemaszko reported from New York.