Refugee orchestra's message of peace
Comments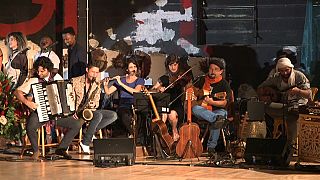 Brazil's Mundana Refugi Orchestra brings refugees together on stage to deliver a message of peace and hope.
Oula Al Saghir is a Palestinian refugee from Syria who says she is not defined by her refugee status.
"I am Oula, first of all, an Arabic singer, an artist, and, then, a refugee," she explains. "Everything I've gone through and endured, with the war in Syria, the family and friends that I've lost. All of it has given me strength."
The Sao Paulo-based orchestra has 21 musicians representing more than 10 nations including Syria, Iran, Cuba, Democratic Republic of Congo and Haiti.
The orchestra was founded a year ago by musician Carlinhos Antunes and proved a surprise hit. It plays Antunes' own compositions as well as traditional music from the countries involved.
Danilo Santos De Miranda, is the director of Sesc Cultural Centre, the Brazilian organisation that runs culture and arts facilities in Sao Paolo. He believes music has the power to bring people together.
"It offers a fundamental and ethical message of peace and solidarity," he says.
The orchestra is now planning a new series of concerts.