US holds back aid for Palestinian UN relief agency
Comments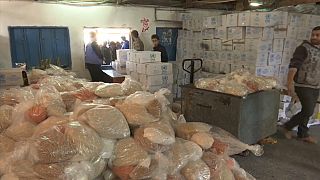 There has been alarm in Gaza and at the United Nations at a US announcement that it is withholding half of a $125 million aid installment for a UN relief agency (UNRWA) to help Palestinians.
One official said the move would have devastating consequences for thousands of vulnerable people, .
It comes just over two weeks after President Trump questioned the value of such funding on social media_
Heather Nauert, US State Department Spokesperson defended the decision at a Washington press briefing:
"We're not giving up on peace talks. We're not giving up on those conversations. It's something very important to this administration. Secretary Tillerson then ultimately made this decision in consultation with other members of the administration and so that's where things landed."
But members of the Palestinian Liberation Organisation have linked the move with the naming of Jerusalem as Israel's capital and say Palestinians are being punished and that Trump is favouring Israel in his Mideast policy.
"President Trump announced Jerusalem as the capital of the (Israeli) occupation, but he doesn't have the right to do so, in a move against the International law and agreements, in an attempt to dismiss Jerusalem as an eternal capital of Palestine. Jerusalem will always be the capital of Palestine. The other issue is that he is tying to cut the aid for UNRWA and put more pressure to delete the refugees' right of return, " said PLO member Wasel Abu Yousif.
At the United Nations, Secretary General Antonio Gutterres has expressed concern hoping the funds will be forthcoming and stressing that the UN relief agency provides vital services to Palestinian refugees in both the occupied territories and in Jordan, Syria and Lebanon.
A US official said the $65m was being withheld "for "future consideration", adding "It is time other countries, some of them quite wealthy, step in and do their part to advance regional security and stability."