Tillerson, backing talks, warns N. Korea could 'trigger an option'
Comments
By Phil Helsel and Andrea Mitchell and Abigail Williams with NBC News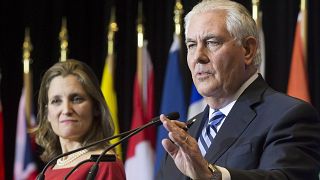 Copyright

Jonathan Hayward The Canadian Press via AP

-
The United States is still pursuing diplomatic efforts to resolve the situation with North Korea, Secretary of State Rex Tillerson said Tuesday, but he warned that if Pyongyang doesn't choose the path of engagement "they themselves will trigger an option."
Asked at a news conference with Canadian Foreign Minister Chrystia Freeland about the possibility of talks with North Korean leader Kim Jong Un, Tillerson wouldn't say whether talks have taken place.
"We're at a very tenuous stage in terms of how far North Korea has taken their program and what we can do to convince them to take an alternative path," Tillerson said. "When we get into who's talking to who and what was said, if we want that to be made known or made public, we will announce it."
The comments came days after Hawaii's emergency management agency system mistakenly warned residentsof an inbound ballistic missile threat. The errant warning, which highlighted the risk of a missile test or strike that could affect the state, terrifiedsome Hawaiians.
Related: North Korea didn't react to Hawaii false alarm, Mattis says
Asked whether Americans should be worried about war with North Korea, Tillerson said the North has made "significant advances" in its nuclear weapons program and intercontinental ballistic missile systems, but "I think we all need to be very sober and clear-eyed about the current situation."
"We have to recognize that that threat is growing and if North Korea does not choose the pathway of engagement, discussion, negotiation, than they themselves will trigger an option," Tillerson said.
"I think our approach is in terms of having North Korea choose the correct step is to present them with — that is the best option, that talks are the best option," Tillerson said. "That when they look at the military situation, that's not a good outcome for them."
"When they look at the economic impact of ever-growing sanctions and the pressure campaign, there is no end to that," he said. "And I think for North Korea and the regime, what we hope they're able to realize is the situation only gets worse. It gets worse with each step they take."
North Korea has conducted six nuclear tests so far, the most recent in September, and it has testedintercontinental ballistic missiles, or ICBMs, three times.
Kim claimed in a New Year's Day address that "the entire United States is within range of our nuclear weapons, a nuclear button is always on my desk."
President Donald Trump responded that "I too have a Nuclear Button, but it is a much bigger & more powerful one than his, and my Button works!" in a tweet that raised some alarm.
Related:South Koreans shrug amid Trump's 'nuclear button' dust-up with Kim
Trump earlier this month said he was open to talking to Kim on the phone, but he said "we're very firm." When asked whether the talks would be without prerequisites, he responded, "That's not what I said at all."
Trump also said on Jan. 6 that Kim "knows I'm not messing around. I'm not messing around. Not even a little bit, not even 1 percent. He understands that."