The difference between Trump's annual physical exam and yours
Comments
By Nicole Spector with NBC News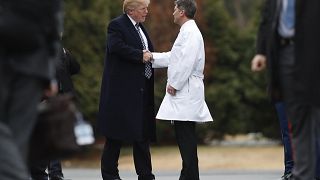 Copyright

Carolyn Kaster AP

-
On Friday, President Donald Trump underwent his first full physical exam since taking the Oval Office. White House physician Ronny Jackson gave a news conference Tuesday reiterating his earlier statement that the 71-year-old president is in "excellent health."
Despite concerns about his weight, diet and lack of physical activity, Jackson said that based on Trump's cardiac assessment, his cardiac risk is low. To improve the president's health, Trump and his doctor are working on a plan to change his diet with a "reasonable goal" of losing 10 to 15 pounds. At Trump's request, he was also screened for cognitive issues and Alzheimer's disease. "I have no concerns about his cognitive abilities," Jackson told reporters. The White House physician also said that the details released by Trump are more extensive than those of previous presidents in recent history. "He has gone above and beyond to demonstrate his cognitive abilities."
So, what does a yearly physical for the commander in chief look like compared to what we experience? Jackson said the examination took over four hours, so it's safe to say that Trump got a more rigorous annual physical than the average 71-year-old American would — but perhaps not by all that much.
Most Folks Over 65 Get a Pretty Thorough Work-Up
"Trump likely received a physical exam that's close to standard for what a man of his age would get," Dr. Obianuju Helen Okoye, a public health physician and healthcare consultant in St. Louis, tells NBC News BETTER, explaining that the examination typically comprises blood work to check kidneys, liver, blood chemistry and immune system. You would also likely have your thyroid tested, be screened for diabetes and have your cholesterol tested via a lipid panel. Also standard for men of this age is a prostrate screening (one is recommended every four years), a colonoscopy (recommended every five to 10 years), and, if it hasn't already been ruled out, a Hepatitis-C test (recommended by the CDC for everyone born from 1945 to 1965). This is all in addition to checking blood pressure, blood oxygen levels, body temperature and muscle reflexes. The doctor also will likely palpitate the abdomen to check for abnormality, and of course, listen to heart and lungs as well as check the ears, nose and throat.
"Like any older man, Trump would be screened for abdominal aortal aneurysm, for which he's certainly at risk by given his behavior and age," adds Dr. Catherine S. Forest, clinical associate professor, primary care and population health, and medical director at Stanford Health Center at Los Altos.
Health Facts
The President Gets More Treatment Because of the High Stakes
Now, you may be asking about things like an EKG, an MRI and other more advanced tests that Americans typically get only when their doctor feels there's a need for such investigations. Did Trump get all of these tests? Based on Jackson's comments, it's likely he did get at least an EKG, not only because there is cause for concern over his cardiovascular health based on his diet, exercise habits and body mass index (BMI), but because he's the president. It's "a better safe than sorry" situation.
Dr. Forest agrees with Dr. Okoye that Trump was likely given every test a man of his age, ethnicity, lifestyle and family history would normally receive. But extra work-ups are to be expected because "the stakes are so high if something is missed," Forest said.
"For example, an EKG is not a part of standard preventive health for an American adult — neither is a chest X-ray or a pulmonary testing. But they [were likely] included for the president," he adds.
The key difference is: When it comes to the president, doctors don't wait for results that may point to a problem— they go ahead and rule it out before it's even a possibility.
Want Those Tests? You'll Have to Prove You Need Them
Why doesn't the average American get this kind of in-depth care? The system just isn't set up to accommodate everyone to that degree.
"I think people ask all the time for further testing even though there is not evidence to support it," notes Dr. Forest. "They may ask for an MRI or something to 'find everything,' but the risks are outweighed by the benefits if you have no symptoms. The risk with any imaging is that you find something that requires further evaluation to look into that is most likely not problematic."
Generally, doctors discourage asking for tests that are prompted purely by curiosity or by fear that isn't supported by data or family history.
It's hard not to think of all the lives that could be saved if only say, every person who complained of headaches were immediately granted an MRI during their annual physical. Think of how many blood clots and other problems could be detected in such a scenario? But this level of detailed testing is just not feasible at present.
"One of the risks of doing unnecessary procedures has to do with health care financing," explains Dr. Forest. "We have to ask ourselves: Where do we spend our time and money?"
Dr. Okoye echoes this reasoning, adding: "We can't do an EKG for everyone presenting at the doctor as the cost would be unbearable. Insurance would just not be able to cover it. Health care costs in this country are already so high."
Do Your Homework and Be Your Own Health Advocate
So what can you do to get a more presidential treatment, as it were? Dr. Okoye recommends asking questions of your family about any chronic illnesses, as well as doing your homework on your racial/ethnic background as research suggests that some ethnicities are more prone to certain conditions than others. The idea is, you want to come into that exam room armed with as much knowledge as possible.
And once you're with the doctor, you need to be upfront about your concerns, and, as Dr. Okoye stresses, "be your own health advocate." If you really sense that something is wrong, be persistent. It's also important that you don't fudge any of the truth while talking to your doctor or filling out their questionnaires, even if you're worried it will make you look bad or raise a red flag to your insurance provider.
"Do you really smoke but say you don't? Too often patients give incorrect information to the physician. They also may not bring up certain questions on their mind," Dr. Okoye said. "But if you feel the need to explore something, you have every right to ask. You know your body best."
Want more tips like these? NBC News BETTER is obsessed with finding easier, healthier and smarter ways to live. Sign up for our newsletter and follow us on Facebook, Twitterand Instagram.