Bayeux Tapestry set for loan to UK after 950 years in France
Comments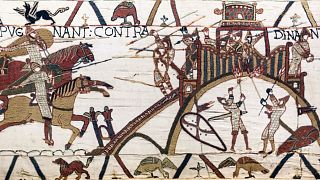 Several British newspapers are reporting that the Bayeux Tapestry is to be moved from France to the UK for the first time in 950 years.
President Macron is expected to announce during his visit to Britain for a Franco-British summit on Thursday that the artefact is to be loaned.
The tapestry – 70 metres long and 50 centimetres high – depicts the Norman Conquest of England under the future King William I, ending with the Battle of Hastings and the defeat of Harold in 1066.
Reports say the loan is unlikely to take place for five years and will be subject to tests to make sure it can travel from its current location at the Bayeux Museum in Normandy without being damaged.
The embroidery has rarely been moved even within France and previous attempts to bring it to Britain have failed.
The announcement provides an interesting backdrop to the French president's visit, when he will be hosted by British Prime Minister Theresa May at Sandhurst Military Academy.
The talks between the two leaders will cover the migration difficulties at Calais and military cooperation, and comes ahead of crucial Brexit negotiations likely to pit the two countries against each other.
However, the loan of the Bayeux Tapestry is being promoted as an example of the depth of the Franco-British relationship "rooted in our shared history", according to one Whitehall official quoted by the Times.