Sexual abuse victims confront 'repulsive' predator Larry Nassar
Comments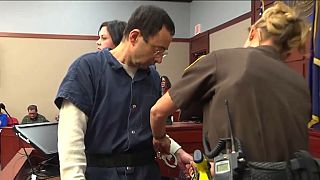 The first of more than one hundred women sexually abused by former gymnastics doctor Larry Nassar took the stand at his sentencing hearing on Tuesday, detailing his actions and the horrific impact on their lives.
Nassar faces up to 40 years in prison for his crimes and is already serving 60 years behind bars for possessing child pornography.
While many of the women testifying at Nassar's sentencing aren't household names, their stories are heartbreakingly similar.
" I think it is important for the victims that we stand in solidarity together. i think it's important that the message not just the consequences of sexual abuse, but the consequences of enabling sexual abuse are heard loud and clear," said victim, Rachel Denhollander.
Among nassar's accusers are several olympic gold medal gymnasts inlcuding Simone Biles who, in an emotional social media post on Monday, wrote "there are many reasons I have been relucatant to share my story, but I know now it is not my fault."